National Weather Service Alerts for Chester County, PA
Welcome to the Official Website for the West Bradford Fire Company
100% Volunteer
---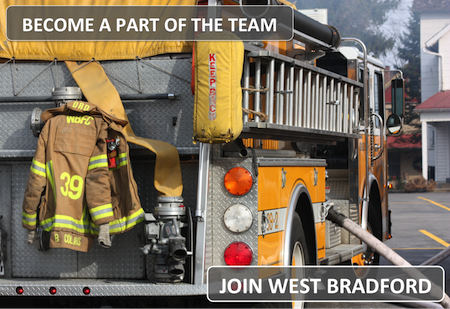 Founded November 10th, 1953, we are a 100% volunteer fire company providing fire/rescue and prevention services to West Bradford Township, East Bradford Township and Newlin Township. We provide mutual aid assistance to other fire/rescue companies and assistance in communty programs. We stand ready 24/7 to respond to your call for help and that of our community. Please take a moment to explore our web site and learn about who we are and what we do. Use the menu to the left to navigate the site. Recent news articles can be found below.
Its Getting Hot! Weather Safety

wbfc, July 20

Summertime is in full swing! Remember to keep hydrated and cool during these hot and humid summer days. Drink water and electrolytes constantly, whether you're performing an activity or not. Stay indoors and ensure to not leave anyone in a parked vehicle in the heat. This is very dangerous. Special attention should be given to those over 65 years old, infants and young children, and those physically ... (Full Story & Photos)

Assist to West Grove

Engineer Sohn Stark, July 16

Around 1830hrs Station 39 was dispatched to relocate to Station 22 (West Grove) to cover their first due while they operated at a house fire. Shortly after arriving to the Station, Engine 39-1 was requested by incident command to respond for additional manpower. Engine 39-1's crew assisted with over haul operations. Additionally, the engine crew assisted cleaning up the fire ground before returning ... (Full Story & Photos)

Memorial Day, Let us Remember

Chief Jack Law III, May 29

This weekend as most everyone is preparing for picnics, gathering for celebrations of the kickoff of summer with family and friends, let us remember that Memorial Day means so much more than that. Memorial Day is a day to remember why we are able to gather for the events that typically consume our daily lives. Memorial Day is a Holiday to remember those who have died while serving in the United States ... (Full Story & Photos)

Hose Line Training at County Training Center

Engineer Sohn Stark, May 19

Tonight the West Bradford Volunteers practiced hose line deployment and advancement techniques at the Chester County Public Safety Training Center. Hose line deployments and advancements can make or break an initial fire attack. These skills are critical to getting water on the fire in a quick and orderly fashion. Firefighters practiced attack and blitz line deployments and advancements from all ... (Full Story & Photos)

West Bradford Day 2016

Firefighter Benjamin Carrero, May 15

This year at West Bradford Day, the company decided to try something new. Instead of doing a vehicle extrication this year, a junior firefighter course was created in place of the normal vehicle extrication. The challenge course gave kids a change to become a firefighter for the day and experience the types of activities that the volunteers do on a regular basis. The kids put on turnout gear, helmets, ... (Full Story & Photos)


Do you have feedback? We want it! Please sign the guestbook.